---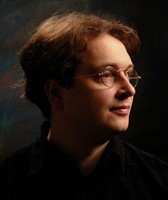 Dominik Wörner, one of the most sought-after bass-baritones of his generation, has been hailed for his "warm and exceptionally colourful voice" and for the "tender glow and sparkling expressiveness" of his style. He studied church music, musicology, harpsichord, organ and singing at the conservatories in Stuttgart, Freiburg and Berne, notably with Jakob Stämpfli. In 2002, Wörner won first prize in the vocal section of the International Bach Competition and a special prize from the Leipzig Baroque Orchestra. Wörner completed his studies with a master class in lied interpretation given by Irwin Gage in Zürich, where he graduated with honours.
Wörner has made guest appearances around the world, performing the major oratorio roles with conductors such as Carl Saint Clair, Christophe Coin, Thomas Hengelbrock, Philippe Herreweghe, Manfred Honeck, Tõnu Kaljuste, Sigiswald Kuijken, Philippe Pierlot, Helmuth Rilling and Masaaki Suzuki. His recordings with record labels Accent, ARS, BIS, Capriccio, Harmonia Mundi France, Hungaroton, K 617, Musica Rinata, ORF Edition Alte Musik, Passacaille and Zig-Zag Territoires have won accolades such as the Diapason d'Or de l'Année, Echo Klassik and the German Record Critics Award.

Wörner gave his operatic debut with Rousseau's Le devin du village in Solothurn, Switzerland and Donizetti's L'elisir d'amore at the Murten Classics Festival. He has been celebrated for his performance in the role of Nanni in Haydn's L'infedeltà delusa in Milan and Munich as well as for the role of Sander in André Grétry's Zémire et Azor in Solothurn.
The German Lied forms an important part of Wörner's repertoire. His recordings of Winterreise and Schwanengesang with fortepiano accompaniment on the ARS label were enthusiastically received by the press. Wörner is also the artistic director of the German-Japanese Lied Society in Tokyo, founded with Masato Suzuki and Goro Tamura, supporting the interpretation and performance of art song in Japan. The Society gave its debut multimedia performance with Brahms' Die Schöne Magelone at Toppan Hall, Tokyo.
Highlights of Wörner's recent career include Mendelssohn's St Paul with Gächinger Kantorei and Bach-Collegium Stuttgart; a European tour with Collegium Vocale Gent and the Freiburg Baroque Orchestra; a performance of Beethoven's Ninth Symphony with the Latvian State Choir in Tallinn, Bach's St Matthew Passion, Handel's Messiah and a performance of Bach's secular cantatas with the Bach Collegium Japan in Tokyo.

Among his upcoming performances are Bach ́s St John Passion in Spain, Rossini's Petite Messe Solennelle in Estonia, Brahms ́ Requiem in Tonhalle Zürich and Mendelssohn ́s St Paul in Japan.

Dominik Wörner is co-founder of the Sette Voci ensemble and founder and artistic director of Kirchheimer Konzertwinters, a concert series in his home region of Pfalz.


Sound samples

Johann Sebastian Bach: Ich hab in Gottes Herz und Sinn, BWV92, Rezitativ 'Es kann mir fehlen nimmermehr'



Johann Sebastian Bach: Ich hab in Gottes Herz und Sinn, BWV92, Aria: Das Brausen von den rauhen Winden



Hugo Wolf: Abschied



Franz Schubert: Aufenthalt